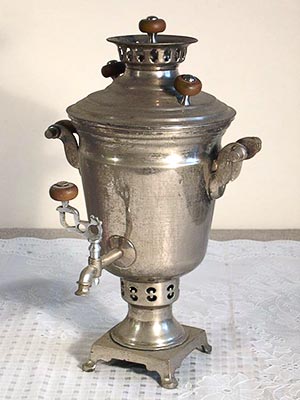 For more than 250 years, the samovar has occupied an honoured place in Russian homes as the centrepiece of the table, around which life revolved. It remains most stable attribute of domestic coziness. Step by step a peculiar ritual of tea-drinking emerged and was adopted in every Russian homes. Drinking tea from the samovar was a way of life.
A traditional samovar consists of a large metal container with a faucet and a metal pipe running up through the center. The pipe is filled with solid fuel to heat the water in the surrounding container and the teapot placed on top. The teapot is used to brew the zavarka, a strong concentrate of tea. The tea is served by diluting this concentrate with kipyatok (boiling water) from the main container at a ratio of about 10 parts water to one part tea concentrate.
Since the mid-18th Century, the samovar (Russian teapot, literally from the Russian "sam" (self) and "varit" (to boil)), glowing hot and polished to a sparkle, was an indispensable feature of every day life.
Since its introduction to Russia from China, tea has become a cultural staple. The samovar came to Russia from Persia and the Middle East in the 18th century.
In old Russia tea quickly replaced favorite Russian drink - sbiten (mix of hot water, honey and herbs) and became a popular product. Tea was drunk all day long - you could find hot tea sellers on street corners, in trains, in offices. The samovars became the symbol of Russian hospitality and family comfort as well as the sign of prosperity. Some families held two samovars, one, more plain, for everyday use, and a dearer one - for receptions and festivities. There were homes with separate samovar-rooms whose interior was crowned by the samovar. Russian people wanted something special and began to decorate and develop the samovar into a beautiful work of art, as welcome in the Winter Palace as in a peasant's izba (hut).
The first samovar was made in Tula in 1820. Later samovar manufactures were in many regions, but Tula became known as the centre of Russian samovar production.
First samovars were made from cupronic-kel, red and green copper, pinchbeck, in some cases - from silver. Sometimes they were plated with gold, silver, but basic metal was always - brass. They were sold by weight. If samovar was heavier, it would be more expensive.
Tula samovars were spread all over Russia. At the fairs samovars were sold of different shapes: vase-shaped, pear-shaped, wine-glass-shaped and others. Samovars came in various shapes and sizes depending on their use. Most were small, around 18 inches high, and were used in homes and offices. Larger samovars could be several feet in height and diameter. Travelling samovars were equipped with handles and removable legs. Others had compartments for preparing food. The metalworkers of the Russian samovar factories provided exquisite detail in silver, bronze, and iron.
Their decoration testifies to different stylistic art trends echoing the general tendencies in the artistic tastes of different periods.
Nowdays Russians still use the samovar quite often, but mostly as an attribute of exotics and nostalgia. Samovars are a necessary feature of the Russian mode of life and consequently a part of Russian applied art.
However modern technology has provided for electric samovars, which don't require the use of charcoal. As in old, these samovars are found in kitchens, offices, and even on Russian Trains. And the use of the samovar has spread from Russia to much of Eastern Europe.
Every samovar with hand painting has its own style and is not only article of arts and crafts, but also a good remembering gift.